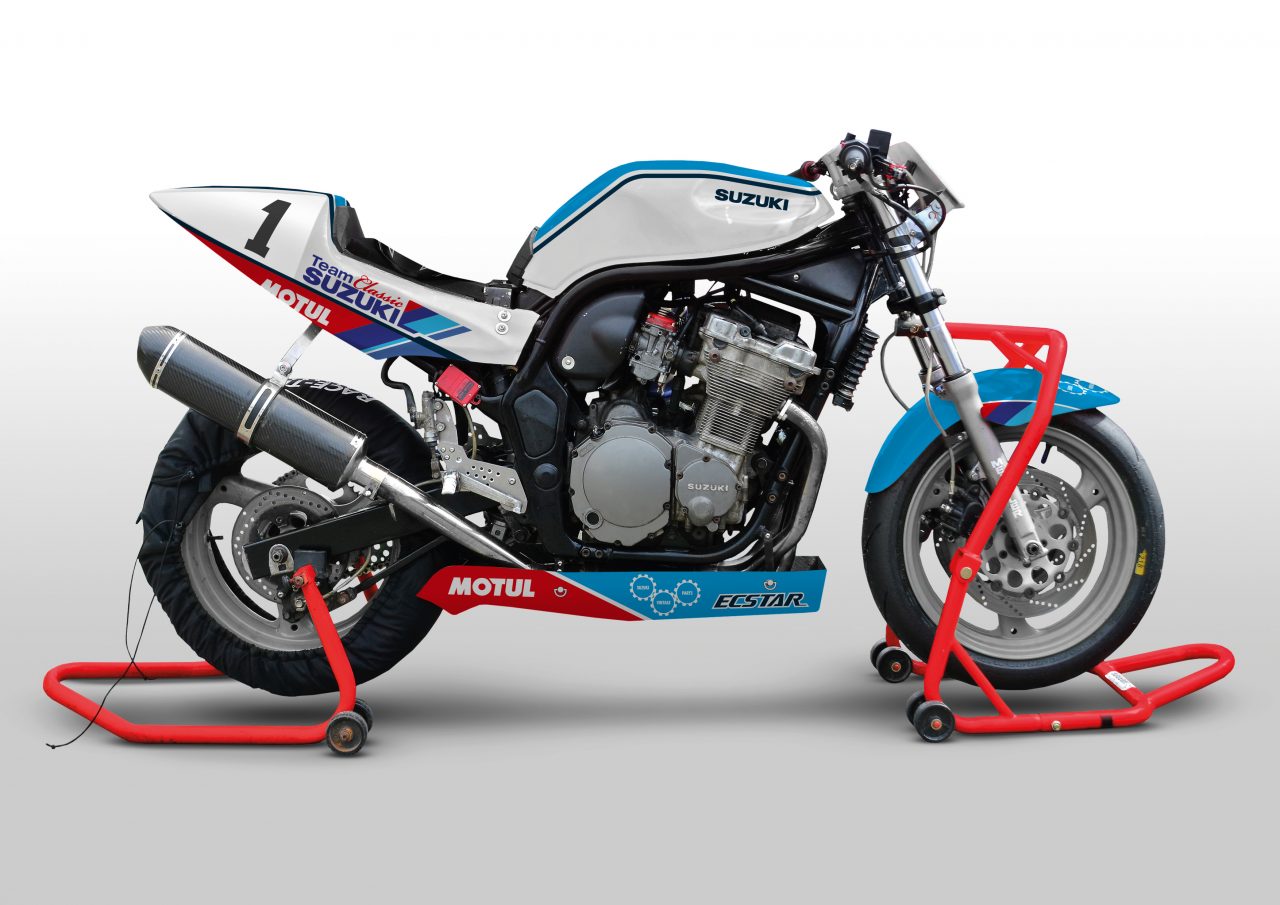 Team Classic Suzuki and Suzuki's Vintage Parts Programme have joined forces with the Bandit Challenge race series, and will offer this year's champion the chance to race under the team's banner in the popular one-make championship in 2019, racing its own Bandit 600.
The team is currently building a bike to fit the class regulations – with support from the Vintage Parts Programme – and at the end of the season will invite the 2018 Bandit Challenge champion to join the team for the following year.
Team Classic Suzuki will present the race-ready machine to the winning rider, plus a comprehensive spares, parts, and Motul lubricants package, for them to race the following season. They will also be invited to a preseason test, with other Team Classic Suzuki riders and machinery, ahead of the eight-round series.
Suzuki GB's Tim Davies said, "We're really pleased to be working with the team behind the Bandit Challenge and be able to offer this opportunity. The championship is just going from strength to strength, and as Team Classic Suzuki we're looking to extend into different championships with different riders. The Bandit Challenge is an excellent way of going racing on affordable, reliable machinery and, given the limited modifications, ensures a competitive field, too. We are treating our Bandit to a full engine-rebuild using parts readily available from our Vintage Parts Programme, parts which can also be purchased by other racers in the class using our Race Parts Programme discount, too. We're then looking forward to watching this year's action unfold on track and are looking forward to seeing our bike out there in 2019."
Run by the Formula Prostocks Racing Club, the Bandit Challenge is now in its third year.
Bandit Challenge series organiser, Keith Chambers, added, "Formula Prostocks Racing Club would like to thank Suzuki GB and Team Classic Suzuki for this wonderful offer and their on going support. The Black Widow Bandit Challenge is now entering its third year and has had the backing of Suzuki GB with Race Parts Programme discount right from the outset.

"We already have plenty of new riders signed up for this year and with this announcement, I am sure it will attract even more. So, if you fancy your chances of winning the Team Classic Suzuki ride for 2019 there is still time to get signed up. We are running a showdown championship this year for the first time, so even if you're unable to get a bike ready for the first round at Brands Hatch, you could still be in with a chance, as long as you qualify in the top six for the showdown later in the season."
For more information on the Bandit Challenge, click here.