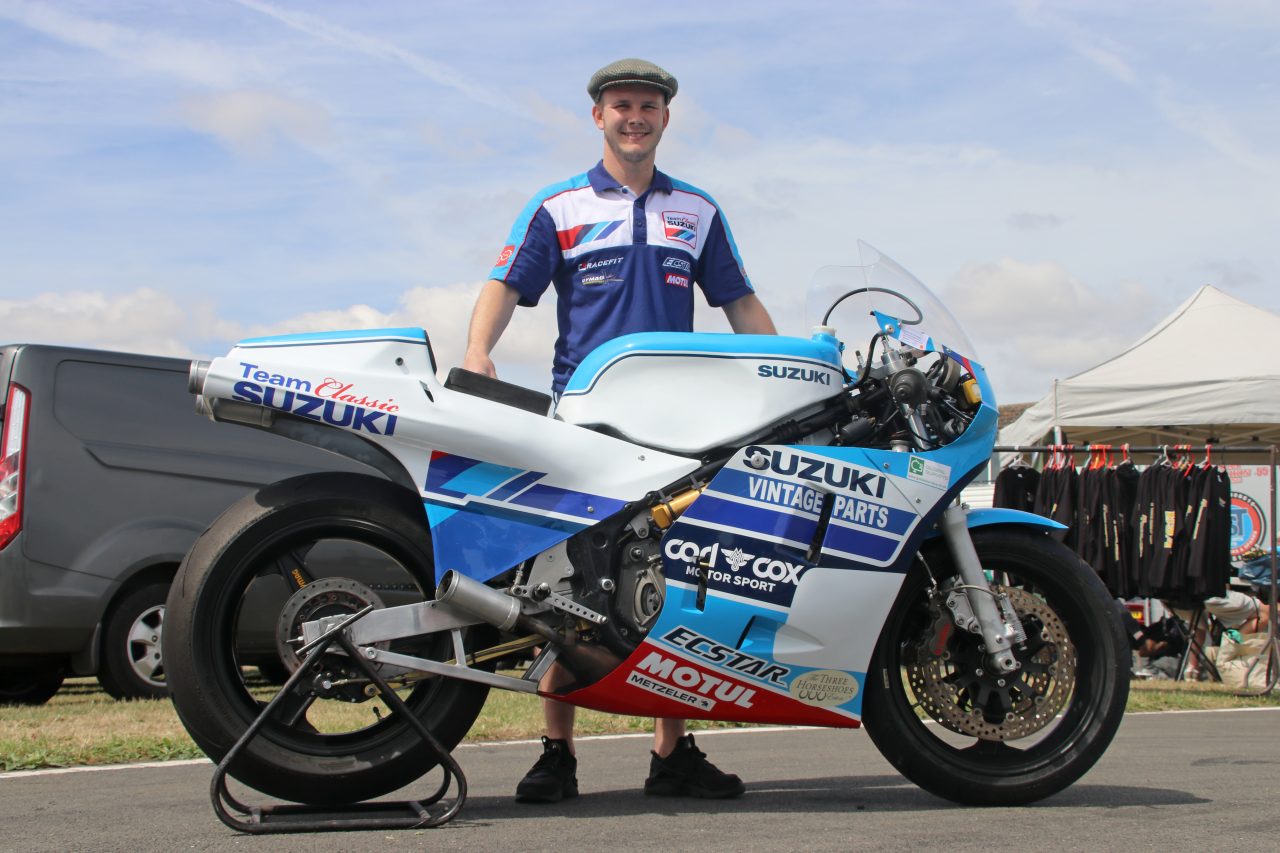 Team Classic Suzuki has announced its rider lineup for this year's Classic TT on the Isle of Man, and for the first time will campaign an original RG500 alongside its XR69.
Danny Webb will join Team Classic Suzuki for another year after finishing ninth with the team in 2017 and sixth in 2016. However, the 123mph lap holder will swap his XR69 for an RG500 Mk10 and aim to make history by setting a new lap record around the mountain course for the legendary two-stroke machine.
Phil Crowe, who finished ninth in this year's Superbike TT, will pilot the team's XR69. Crowe will be making his debut at the Classic TT, but boasts a wealth of experience and will be aiming for a top-five finish in the Superbike race. Crowe will be deputising for Michael Dunlop – a multiple winner with Team Classic Suzuki at the Classic TT – who announced his withdrawal from this year's event.
Danny Webb said, "Getting the chance to ride an RG500 around the Isle of Man is an unbelievable opportunity and I can't believe I've got it, to be honest. We tested at Donington last week and I was just going round thinking, 'I'm riding the same sort of bike that Barry Sheene would have ridden around here.' I've got two-stroke experience obviously, but it's still a very different bike to ride. You can't be lazy with it and have to really keep the revs high. With modern bikes you can almost be in any gear and it'll pull, but need to be in the right gear on this. But the test was good, and I got comfortable on the bike, and I'm just buzzing to ride it around the Isle of Man. I know it's a bit before my time, but I'm well aware of the bike's history and the history of those that rode it, and I'm just so grateful for the chance. It's my third year with the team as well, we all get on well and they're a great bunch, so it's good to be back with everyone."

Phil Crowe said, "This will be my first time at the Classic TT and I jumped at the opportunity to ride for Team Classic Suzuki. I'd had a few opportunities in the past to go the event but I wanted to go and be on a competitive bike, and everyone knows how capable the team's XR69 is, and Michael Dunlop has shown that by winning on it in the past. We had a good test at Donington Park, and it really surprised me to be honest, I was very impressed. We spent the morning dialling in the setup and getting handlebar position, footrest position right, but after that we were putting in some good times. I had some preconceived ideas about what it would be like to ride but it was fast, good chassis, and a nice bike to ride. I'm confident we can achieve a good result on it. I must thank my sponsors, too; John Chapman Racing, Lee Jackson air conditioning, Handtrans, Nigel Appleyard, and Agriwash."
Also making an appearance at this year's Classic TT will be the Team Classic Suzuki Katana, which will be raced under the Carl Cox Motorsport banner. The bike was last raced at the Oschersleben four-hour, where John Reynolds and Pete Boast finished third overall and first in the superbike class. Jay Lawrence will race the bike as it makes its Isle of Man debut.
Team Classic Suzuki's Steve Wheatman, said, "We're really excited to get back to the Classic TT and it's a special event for us. It's a shame not to have Michael joining us, but we understand his decision and our thoughts are with him and his family. Having a shot at history with the RG500 this year will add another level of excitement to the race for us – some great names have raced them around the mountain course and seeing one out there again will stoke the nostalgia of the spectators too, I'm sure. We're also looking forward to working with Phil; he knows the place well and we can work towards achieving a good result with him, too. It will be good to see the Katana making it's Isle of Man debut with our friends at Carl Cox Motorsport."
Images are copyright free for editorial purposes only.