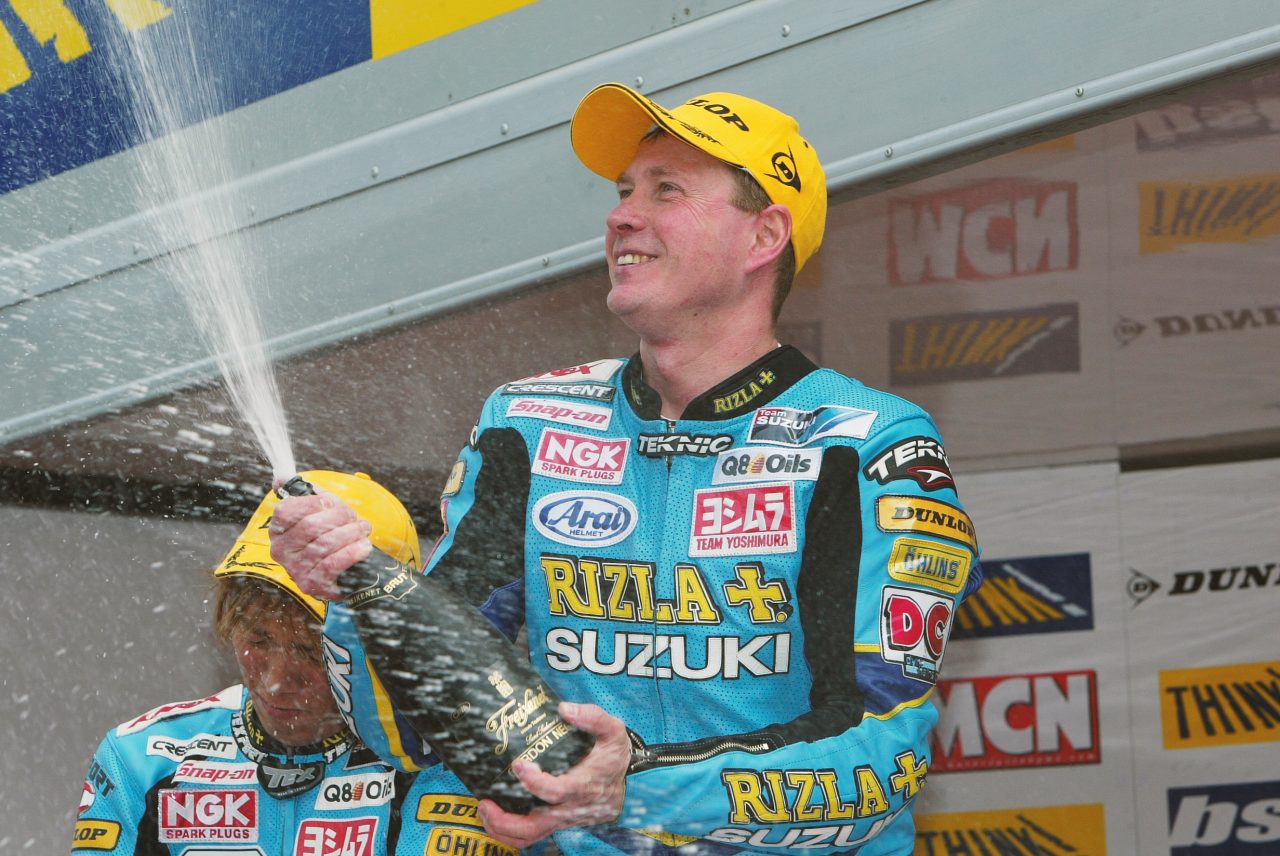 Team Classic Suzuki will return to endurance racing action in 2018 when it lines up with John Reynolds, Steve Parrish, and Michael Neeves at the Endurance Legends four-hour, which takes place at Donington Park on May 13.
The team made its endurance racing debut at last year's event and qualified sixth on the grid with Parrish, Neeves, and James Whitham, racing its iconic Katana, but the debut was short-lived after a crash on the opening lap left the bike too badly damaged to continue.
However, the team enjoyed two more outings in 2017, taking seventh at the Bikers' Classic four-hour at Spa Francorchamps with Guy Martin and Pete Boast. Boast and Neeves then lined up for the final round at Aragon, where Boast crashed out of third place with just minutes remaining.
Again supported by Suzuki GB's Vintage Parts Programme, the team had hoped to return to Donington Park with its original rider lineup, but unfortunately Whitham will be unable to join teammates Parrish and Neeves in May. Instead, Reynolds – who won the 2004 British Superbike Championship with Suzuki and boasts Suzuka 8-Hour experience on his CV – will deputise, while Team Classic Suzuki aims for Whitham to race the Katana again later in the season.
John Reynolds, "It should be James [Whitham] that's on the bike at Donington Park really. The team had talked to me about me riding the bike later in the year, but it was supposed to be James on it for this event. Hopefully he'll be back on it at another round. But now it's happening, I'm really fired up for it and excited about riding the bike. When you retire from racing you never realise how much you'll miss it. I've not raced competitively since, so will be training to be in good shape for the race. It's a bit of fun but at the same time it's competitive. It's a real honour to be asked back to race for Suzuki. I've not ridden a race bike in anger in a long time, but I'm looking forward to it and will do the best I can."

Steve Parrish, "I'm looking forward to getting back on the bike. I actually only did a few laps on it last year as I missed the test, and probably only did about eight laps in a wet practice session. But I really enjoyed riding it. There were some areas I wanted to improve, so it'll be good for us all to have a proper test on it, as I'll be starting from scratch a little bit. But I'm looking forward to it; to a good test, and hopefully a slightly longer race this time. I know James [Whitham] would have liked to have been back on it, and hopefully we'll see him back soon, but it'll also be good to share the bike with John Reynolds for the weekend."

Michael Neeves, "After two outings on Team Classic Suzuki's Katana last year I'm really starting to enjoy this classic endurance racing malarkey. We almost finished on the podium at the final round at Aragon, and I'm really excited to be riding for the team again at Donington. Not only do I get to race one of the most beautifully prepared bikes on the grid, I've two of the best riders the UK has been ever seen as teammates. I can't wait."

Suzuki GB's Tim Davies, "We can't wait to get back racing. Aragon seems like a long time ago, and we're excited to get back on track with everyone. Last year's Endurance Legends event was superb, despite our early exit. We had a great introduction into the championship and learned a lot, as a team, as we continued to do all year. This year we're delighted to be going back, and will hopefully help put on a spectacle and come away with a good result. We've got a test planned beforehand, and then we'll be going to Donington to race and, hopefully, score a podium finish. However, we're disappointed not to have James [Whitham] with us. We were very keen to return with our original rider lineup, but he should be back on track in Team Classic Suzuki colours again soon. We had already talked to JR about joining us later in the season, but we've agreed to bring his debut forward, and we're excited to see him on the bike at Donington."
The Endurance Legends event takes place at Donington Park on 12-13 May. For more information visit www.endurancelegends.co.uk
Images are copyright free for editorial purposes only.