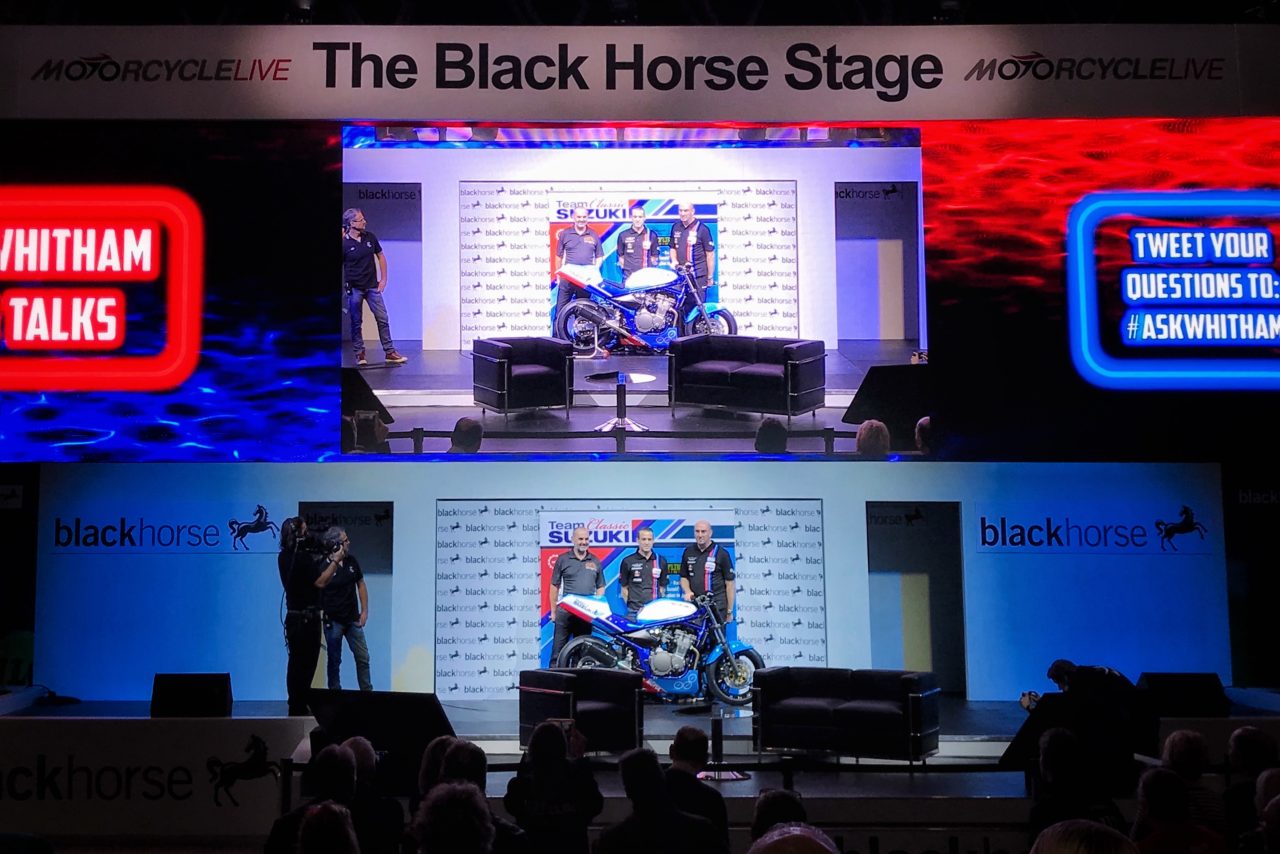 Team Classic Suzuki has handed over its freshly-prepared Bandit race bike, with James McHardy receiving the GSF600 with a presentation at Motorcycle Live.
McHardy, winner of last year's Bandit Challenge race series which runs with the Formula Prostocks club, will campaign the Team Classic Suzuki-prepared machine in 2019, and will be looking to replicate last season's success. He will also be looking to make it a third title in a row, after winning the championship for the first time in 2017 in his debut year.
The Team Classic Suzuki machine, prepared in partnership with Suzuki's Vintage Parts Programme, was built to the Bandit Challenge's stringent regulations, which allow only Mk1 or Mk2 GSF600s and limit modifications to keep costs down and provide close, tight, and exciting racing. The bike build was announced earlier this year, with the promise of being delivered to the 2018 Bandit Challenge champion for them to use for the 2019 season.
James McHardy said when presented with the bike, "I'm really looking forward to riding the Team Classic Suzuki Bandit. It looks so well prepared and put together as I knew it would be, and it's going to be great to run it next season for the team. I won the championship this year and it was my second one. I raced a lot of motocross right into my 20s but didn't go road racing until 2017 – my dad always raced and wanted to have one last stab at it so we got a couple of Bandits for that year. And I managed to win it at the first go. I had a few ups and downs and actually won it at Pembrey with a broken ankle after a crash in practice. It's a great class and a great club, everyone gets together in the evenings for a barbecue and there's a real camaraderie. But that said there's going to be a big target on my back next year with plenty wanting to take this Bandit off my hands. But I'll be trying hard to win it for a third time. And a big thank you to Team Classic Suzuki for supporting the series and the opportunity to ride their machine."

Suzuki GB Tim Davies added, "We can't wait to see James in action on the bike. We really enjoyed raiding our Vintage Parts Programme to build it this year – it was fully rebuilt and freshly prepared by Nathan Colombi – and it looks fantastic, and it was brilliant to be able to formally hand it over at Motorcycle Live. We'll be supporting James with a spares package and Motul are kindly supplying an oil package as well. So hopefully he's got everything he needs to win the title next year and make it a hat-trick."
For more information on the Bandit Challenge, click here. For information on Suzuki's Vintage Parts Programme, click here.
Images are copyright free for editorial purposes only.