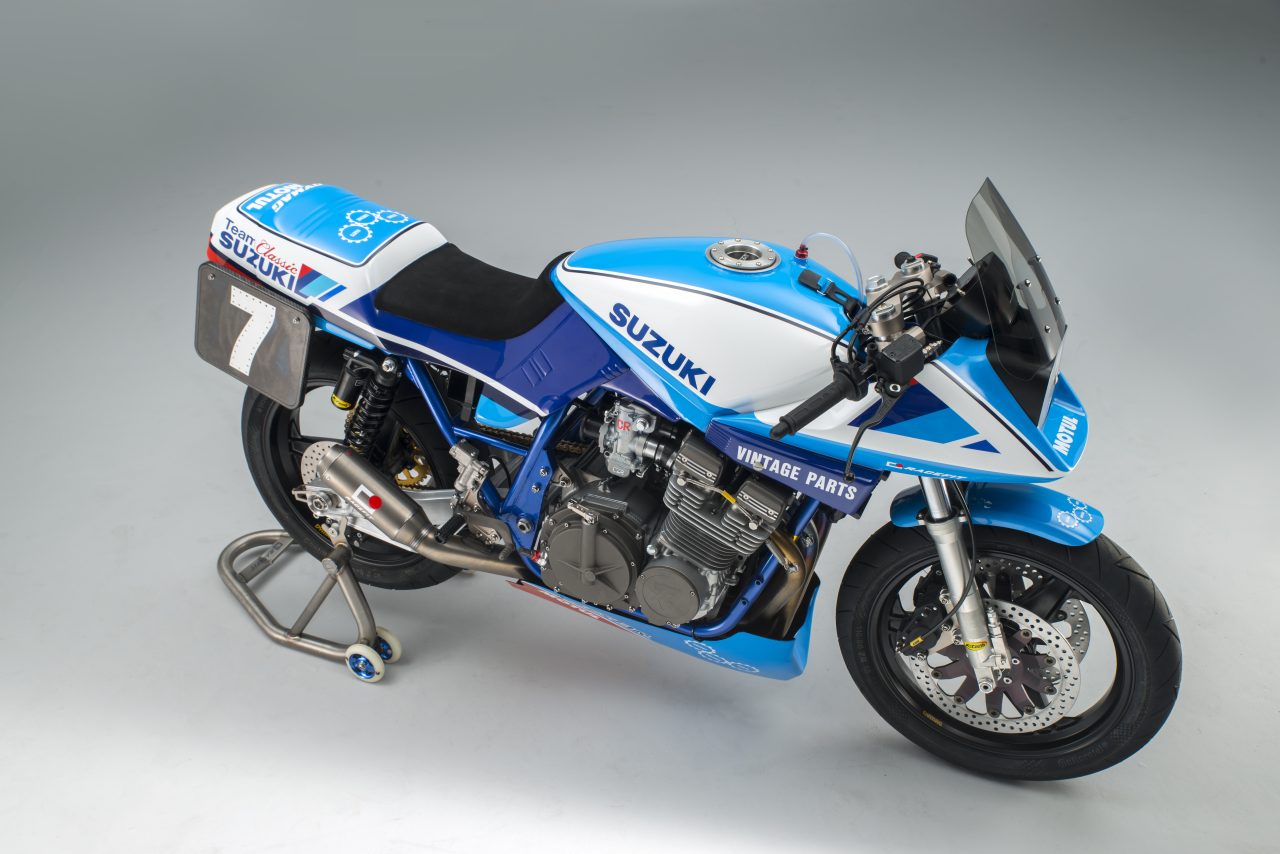 ---
Team Classic Suzuki has announced its rider lineup for this year's Endurance Legends event at Donington Park on 6-7 May, with James Whitham, Steve Parrish, and Michael Neeves campaigning the team's Katana in the four-hour race.
Announced at the MCN London Motorcycle Show, the lineup boasts the experience and speed to challenge for victory in the high profile race, with both Whitham and Parrish extremely familiar with racing Suzuki machinery, while Neeves can also claim plenty of years' worth of racing and winning experience, and also tested the Team Classic Suzuki XR69 at Donington Park last year.
James Whitham said on joining Team Classic Suzuki for the event, "I'm really looking forward to it. I'm looking forward to getting back on a big four-stroke. It's what I did most of my racing on with Suzuki; big GSX-R1100s and 750s, and its a bit more me. I'm going into the race to enjoy it. It's going to be great working with the team and with Neevesy and Stavros, but I'm really looking forward to getting on that bike. I watched it take shape at Motorcycle Live and it's a work of art. I restore bikes myself but that design is so iconic. Nothing before or since has looked like the Katana. You look at a Katana and right away you know what it is. And it's going to be great to get on it and race it and hopefully get a result with it."

Steve Parrish commented, "I'm making a comeback! I think this will be my first proper race since about 1986. I've done some bits at Goodwood before but not to this level. I'm looking forward to it. I know James well from our work doing the TT coverage and I know Michael, so we should all work together well and hopefully have fun, have a good race, and get a result."

Michael Neeves added, "It's a privilege for me to race alongside two of my racing heroes. To to do it on such a special machine at one of my favourite tracks is the icing on the cake. Looking at the high level of competition it's not going to be easy to grind out a result, but it's going to be fun trying. I raced a GSX1100 and GSX-R1100 at Philip Island a few weeks ago, so I'm all dialled in for the old classics and raring to go."
Built at last year's Motorcycle Live and supported by Suzuki's growing Vintage Parts programme, the Katana endurance racer utilises the same basic frame as the original icon, with adjustments made to the headstock and the swingarm pivot lowered.
Suspension comes courtesy of K-Tech, wheels from Dymag, and the swingarm is a custom unit from Sweet Fabrications, while the GSX1100SD engine has been bored out to 1170cc, and gets higher lift cams and stainless steel valves. Everything else in the engine has been replaced with genuine Suzuki components from Suzuki's Vintage Parts programme, including conrods, main bearings and big end bearings on the rebuilt crank.
Team Classic Suzuki team owner, Steve Wheatman, said on the announcement, "We're delighted to be able to announce our team lineup at the London motorcycle show, and we're confident we have a team capable of challenging for the podium and hopefully victory at the event. We feel the bike has been expertly prepared by ourselves, with our ongoing support from Suzuki's Vintage Parts programme. The plan now is to get a couple of tests under our belt and turn up at Donington Park in May as best prepared as we possibly can be, and hopefully be there or there abouts after four hours of racing."
Images are copyright free for editorial purposes only.