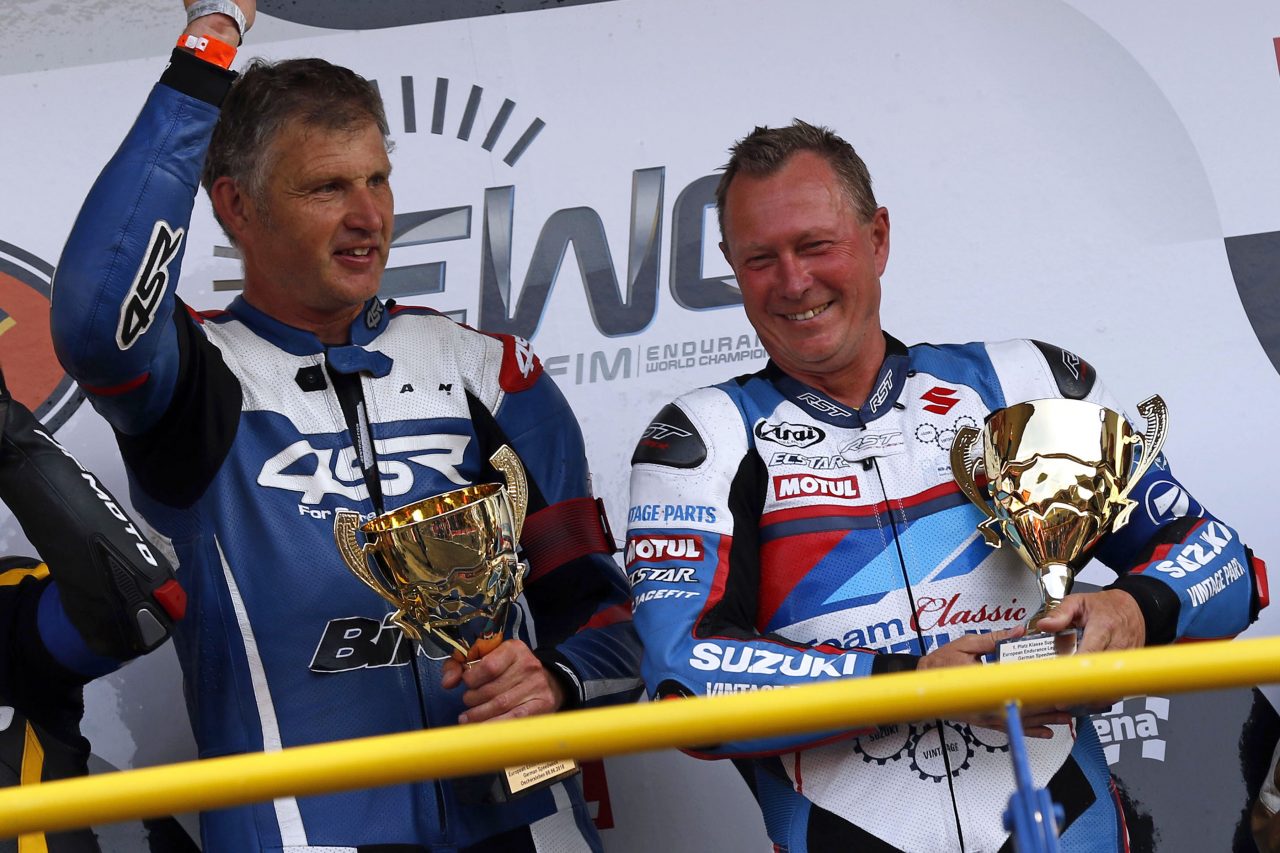 Team Classic Suzuki took a long-awaited podium in Germany, finishing third overall and taking the superbike class win at the Oschersleben four-hour.
With help from fellow Suzuki team SCERT over the weekend, John Reynolds and Pete Boast qualified ninth on the Katana in the combined times, as both riders made their first visits to the circuit, learning as they went.
Three-time British Superbike champion Reynolds was handed the start but didn't make the getaway he'd have liked, dropping from ninth down the order. He recovered a number of places on lap one to cross the line for the first time in 12th. From there he kept his head down and picked up more positions in the early stages.
Handing the reins to Pete Boast – who raced the Katana with Team Classic Suzuki twice in 2017 and finished second on an XR96 at Donington Park last month – the former European Flat Track champion steadied the ship, holding position well inside the top-10.
As the hours and laps ticked by, Reynolds and Boast were able to progress up the leaderboard, helped in part by the retirements of rival teams, and moved into third place on track with an hour to go.
As Reynolds handed the bike back to Boast for the final time the pair held a substantial lead over fourth place, with Boast able to bring the bike home and take the chequered flag. The team were also the leading superbike across the line, giving them the class win.
John Reynolds, "What a fantastic experience but it was a difficult race. It's been a long time since I had to learn a circuit so it took some getting into to start with. We were also trying to improve the bike, focussing mainly on ride height in practice to help with corner entry. Then in the race it was a case of just staying out of trouble and chipping away really. I did the start and it was a terrible one. Most teams were already peeling into turn one while I was still hobbling across the grid to the bike with a dodgy ankle. But we chipped away, clawed back some positions, gained some when some others dropped out, and just kept going really. I had to calm down a couple times; I had two really big slides on the front and touched the cases down and the crash bobbins, but I got away with them, just backed off a little bit, and we managed to come away with third overall and first in class. I'm pleased for the team; they put so much work and effort in, and they do this because it's a passion, so after some bad luck and some issues I'm glad myself and Pete could repay their faith and hard work with a result."

Pete Boast, "What a weekend for the team really. They've had some bad luck but they kept coming back and we've got a great result in the end. It wasn't without its issues and we've had some help from some other teams but that's what's great about this paddock. John did a mega job in the first stint and I just tried to keep us up there. We knew we could keep getting faster as we were still learning our way around, so we thought we could pick up some places and not everyone was going to make it to the finish, and in the end we got the podium and the class win. So I'm really happy for the team and it's been an honour to have John as my teammate; when I was doing BSB and was finishing 12th or 13th he was at the front winning, so we know how quick he is and it's been brilliant to race with him and put the Katana up there."

Suzuki GB's Tim Davies, "What a feeling. We felt our luck had to change and getting this result is just fantastic. John and Pete did a brilliant job. We had a strategy and we stuck to it. It wasn't without its dramas; John had a few moments and there was a safety car early on, but they kept going and picked up positions on the track and with some other top teams suffering mechanicals we picked up a couple more, but that's endurance racing as we well know. A big thank you to Metzeler, Carl Cox Motorsport, and Motul, and also to SCERT, without whom we wouldn't have made the race. But also to everyone in the team who work tirelessly on the bike, and also to Pete Littlewood from B&B Motorcycles for their support with everything."