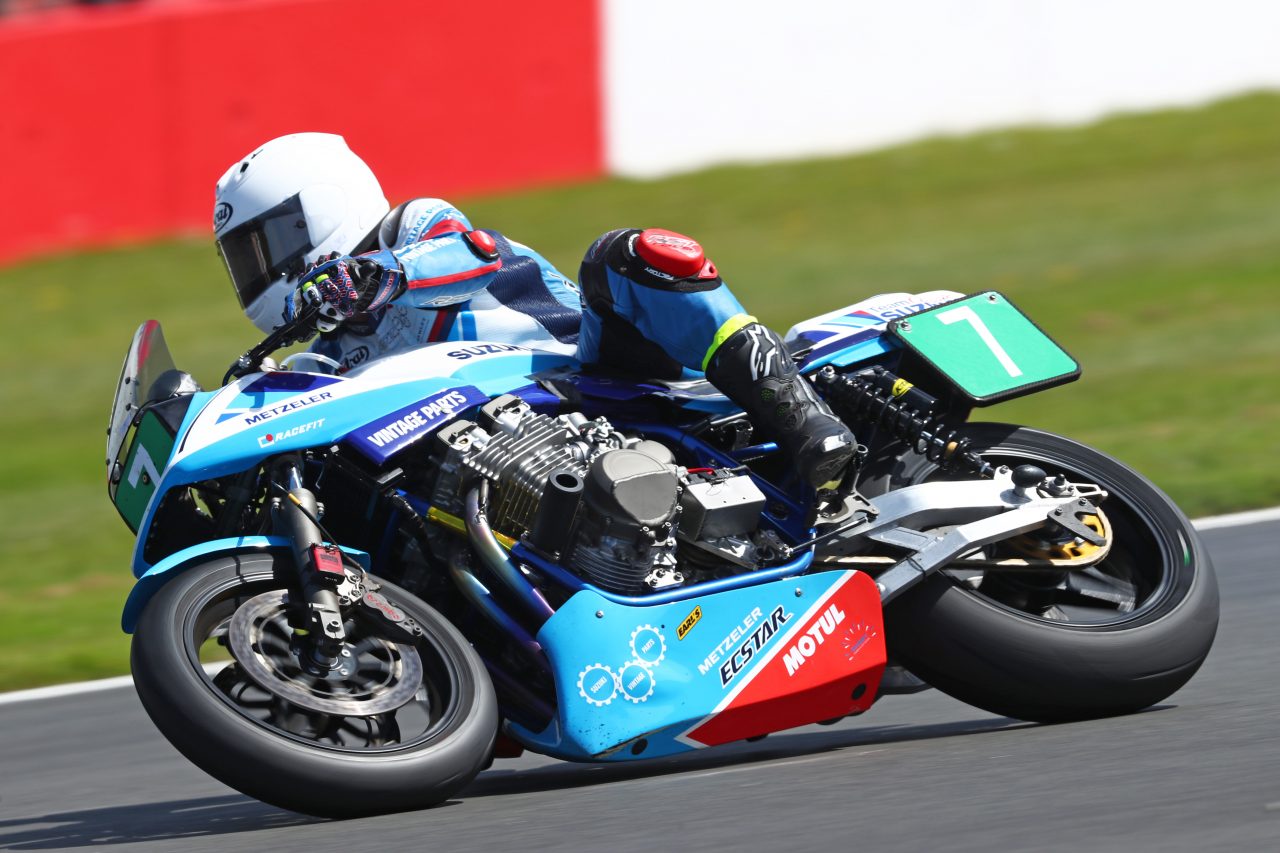 A retirement with an hour and a half to go during the weekend's Endurance Legends four-hour race at Donington Park robbed Team Classic Suzuki of a shot at victory onboard its Katana, however, the two-man team of Guy Martin and Pete Boast finished on the podium in second on a Team Lincs Classic Suzuki XR69.
Starting in fifth place Michael Neeves was nominated to take the first stint, and after ensuring a safe start climbed to second place on the time sheets. After 40 minutes in the saddle, he pitted, handing the bars over to former British Superbike champion John Reynolds. Reynolds set off and began chasing down the leaders, before eventually making a pass for the lead down Craner Curves.
After another pitstop the team rejoined the race in fifth place with Steve Parrish in control, the former Grand Prix ace climbing to third before handing back to Neeves. Unfortunately the team would only go on to complete another two laps before being forced to retire. It's the first mechanical retirement for the team, and came as a bitter blow with a podium or win within reach.
Still circulating and on the charge was Team Lincs Classic Suzuki's pairing of Guy Martin and Pete Boast. After racing the Katana last year, the pair were campaigning an XR69 owned by Team York Suzuki, prepared by the crew from B&B Motorcycles. Promoted to third after the Katana's retirement, the team advanced further up the time sheets to finish second at the chequered flag.
Team Classic Suzuki's Tim Davies, "It was a real blow to be honest. The weekend had been going so well up until that point. We've really enjoyed racing in this championship and have learned a lot by being a part of it, but we were now looking for a result and it was within reach. Michael [Neeves] did a great job off the start to get away safely and move up to second place, and then it was an honour to watch JR [John Reynolds] return to racing action for the first time since 2005. He took us into the lead. Steve [Parrish] also showed that you don't lose talent, and after we dropped a couple of spots after the pit-stop, he kept us in podium contention. But sadly that was as far as we got. Michael felt something as he started his second stint and then it stopped on him into turn one. We got the bike back but it our race was run. However, it was great to see Guy [Martin] and Pete [Boast] having a brilliant race on the XR69. They had their own problems to overcome, but after they're outings with us last year, it was a pleasure to be able to congratulate them and Team Lincs Classic Suzuki on their podium. This endurance racing is no easy feat, but we're always learning and are looking forward to getting back amongst it. We hope all the fallers are ok, and congratulations to Team Force on the win."

John Reynolds, "I am disappointed really. We had a fantastic start to the race; Michael got us away and up to second and was really storming along. I got on the bike and had no real dramas and managed to get into the lead, which was great. We were in the hunt for the podium after the pitstop and Steve's stint, but on Michael's second stint something's gone off with the engine. I'm not sure what but the bike slowed down a bit. I was gutted to miss my second stint but I also really feel for everyone else. Not just Steve and Michael, but everyone in the team works so hard to get out there. Hopefully I get to do it again sometime."

Michael Neeves, "It's third time unlucky for me – everyone knows how this event last year went, and then in Aragon we were looking which way we went to the podium when Pete [Boast] crashed with minutes to go. I am probably more gutted this time though. We were doing really well, had a good start, John gave us the lead. We dropped a bit after a stop, and when I got back on it I just wanted to bring it home, try and get back to the front but go for the podium, but then it all went wrong. It's been another great event to be involved in, and being teammates with John and Steve and riding such a beautiful bike is an honour. Hopefully it will be fourth time lucky, and congratulations to Pete and Guy on their podium."

Steve Parrish, "I'm disappointed for obvious reasons. The bike was working so well up until the moment it went wrong. Michael and John did a great job and after my stint we were still up there, but the bike started to feel different towards the end of my run, and then it came to a halt not long after Michael got on it. It's a real shame as, truthfully, we could have been on the podium as a minimum and it would have been a wonderful end to the story. So much effort goes into the project from the team, and hopefully there's more to come from the guys."

Guy Martin, "I'm dead happy. I'd not really raced since the Katana at Spa, so I'm happy enough. After the first stint we weren't even sure if we should continue as we had a gearbox issue, but we could ride around the problem and we carried on, and nursed it home really. To finish first, first you must finish, as they say. But we finished second, but still! We had some good pit work – there's no I in team – and got a good result. We had plenty of tea, a bit of craic, everyone worked hard, and I right enjoyed it."

Pete Boast, "We're delighted with the podium. I should have had one with the Katana last year so I'm delighted to get this one with the Team Lincs Classic Suzuki crew. We were eighth after qualifying and all felt good at the start of the race. I got off the line well and was fifth into Redgate. But within 10-11 laps it started jumping out of second gear. I swapped to Guy and he was still setting some good times but when he came back in he told me it was getting worse. But we carried on and just used third where we would use second, and then started to climb up the timing screen. Unfortunately the Katana went out which was a shame as they were showing real well, but it bumped us up further and the board kept saying P3, P2, P3, so we chopped about a bit, but got second in the end, which we're really happy with."
Images are copyright free for editorial purposes only.