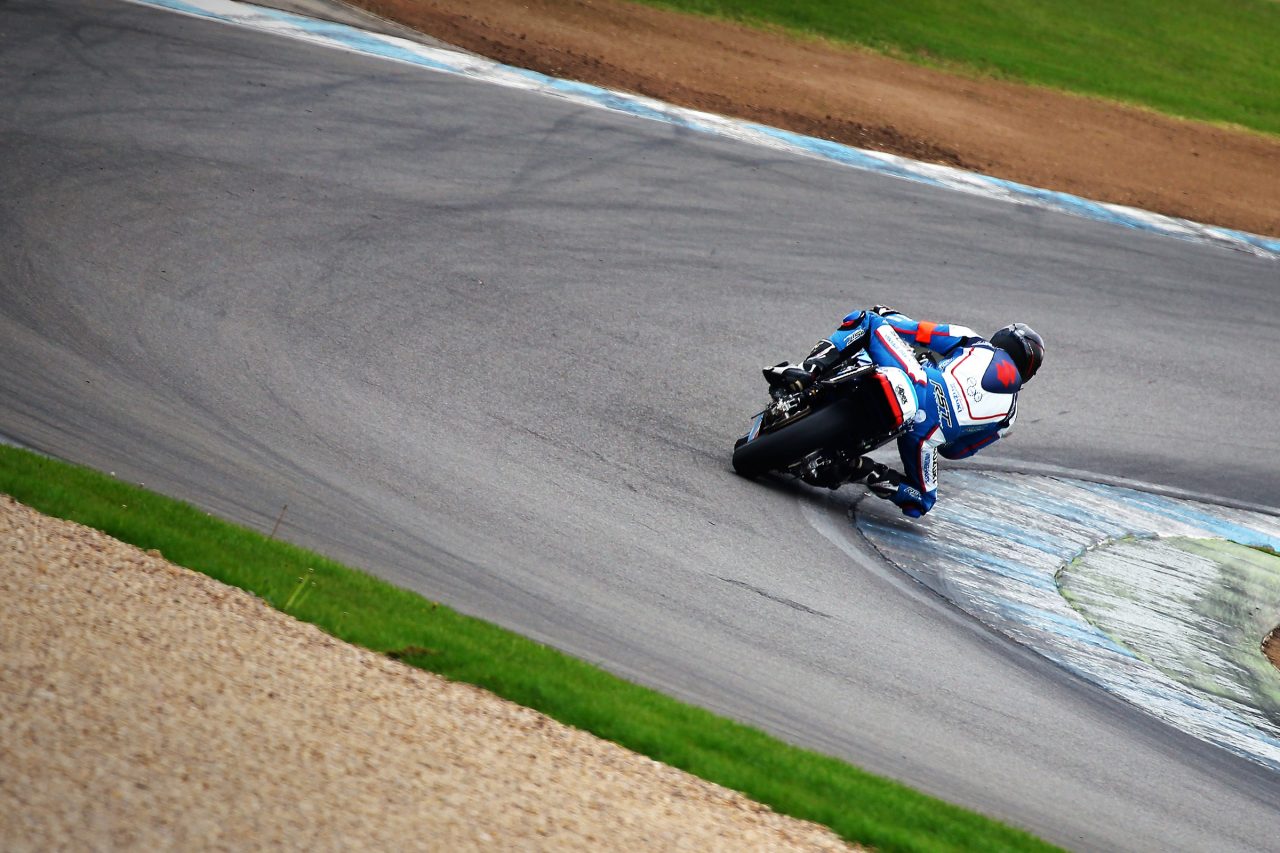 The weekend's four-hour Endurance Legends race came to an abrupt and premature end for Team Classic Suzuki, after a crash left the team's Katana too badly damaged to continue.
The event had started strongly for riders James Whitham, Steve Parrish, and Michael Neeves, and despite a lack of dry track time, Whitham's fastest lap in qualifying was good enough for sixth on the grid, while Parrish and Neeves also posted competitive times. Sunday's morning warm-up was also a strong indicator of the team's potential, ending the session second quickest on the time sheets.
However, despite the detailed preparation, pre-event hype, and the team's competitiveness throughout practice and qualifying, the race was something of an anti-climax, after a crash on the very opening lap ended the team's involvement in the meeting.
Whitham started the race, and from his sixth placed grid spot he had leapt up to third place by the time he'd exited Redgate. He picked up another place further around the lap, before making a move for the lead into the Esses, with the intent of getting clear track as early as possible and setting his own pace from the front. Unfortunately, he lost the front on the way in and fell, and although he tried to restart the bike, it was clear it was too badly damaged to continue, and the team was forced to retire.
James Whitham, "I don't know what to say. I'm embarrassed really, for myself and for the team that have put so much effort in. I got a good start, made a couple of passes and went to have a go for the lead and just lost the front. It's totally my own fault, I knew it was a four-hour race, and can't blame anyone else. It's a shame because the bike was working well and up until the race I think we'd been comfortably doing the times we were. I just feel so bad for everyone in the team and my teammates that didn't get to race the best Katana ever built."
Steve Parrish, "Look, it happens. No one will feel worse than James does, but that's sometimes the way it goes. The positive thing to take away from this is that we were competitive. And also that it wasn't me. There are some proper teams here with a lot of experience in this series, but we were competitive on the time sheets. It's just a shame we couldn't show it in the race."
Michael Neeves, "Unfortunately it didn't go too well. I feel really sorry for James. It's the one thing you don't want to do as a rider in an endurance race as you feel like you've let everyone down, which he hasn't. It's racing and it just wasn't our day. We had a good pace, were all within three seconds of each other on lap times in qualifying, it's just a shame we didn't get a chance to see what we could do in the race. I had a fantastic weekend though, and thanks to Suzuki for the opportunity."
Suzuki GB's Tim Davies, "It's a real shame, but as everyone has said already, it's racing and it can happen. Whitham made a brilliant start from sixth and the fact he made those passes early on showed he was here to have a go. But despite how the race went for us, it was a great weekend and a fantastic event to be a part of. Congratulations to everyone that took part and to Neate Racing on the win."
Images are copyright free for editorial purposes only.